Announcement regarding the opening of Churches for Public Worship In the Archdiocese of Hartford
As of Monday, June 8, 2020, parishes of the Archdiocese of Hartford can reopen for the public celebration of weekday Masses only, provided that no more than a total of fifty (50) socially distanced persons are present at a given Mass in keeping with the limitation currently set by the civil authorities, and provided that a parish is in compliance with the directives in this document. Pastors may consider the possibility of more than one Mass a day (for example, a second Mass in the evening) if circumstances warrant it and all the requirements for safe opening are followed.
click on the below link for more information
https://archdioceseofhartford.org/opening-churches-for-public-worship-in-the-archdiocese-of-hartford-text-only/
We extend a warm welcome to all members of our parish family as well as newcomers.
Whether you're visiting us, looking for a new parish home, are returning to the practice of your Catholic faith or are interested in finding out more about the Catholic Church, we're happy to have you here!
This website was designed to help you embrace your faith by keeping you informed on what's happening at the Parish. Click around to learn more about us, give online, see the current bulletin, and much more.
Use the icons below to navigate to our social media channels or to download our app on the app store or google play.
Shelter Sandwich Making
Our monthly sandwich making for ImmaCare (formerly Immaculate Shelter) has been temporarily suspended due to the Covid pandemic.  The shelter Outreach Coordinator is taking bags that include healthy snacks, fruit drinks, protein bars, etc out to the homeless until our ministry resumes. The church continues to financially support our providing those food items and we are delivering them the second Monday of each month. If you would like to donate any items please leave them in the vestibule at St. Francis Church and label "sandwich making".  If you have any questions please contact Sally Alubicki at 860-989-5398. God Bless!
Out of concern for the health and wellbeing of our parish family, the following St. Junípero Serra Parish events have been cancelled:
Weekend and weekday Masses will be cancelled
Confessions will be cancelled until further notice
The Church office will remain closed until further notice
Note that the Churches will remain opened during normal hours
Shelter Sandwich Making throughout May
Bingo on Tuesdays and Fridays will be closed for the foreseeable future
Simple Suppers, "Sunday's Coming!", and Stations of the Cross
Divine Mercy Cenacle Meetings
Television Masses
A television Mass is broadcast seven days a week at 10:00 AM on WCCT-TV (WB20) and WCTX-TV (MyTV9). It can also be viewed Saturday and Sunday at 5:00 AM on WCCT-TV. The Mass from ORTV can also be found streaming live at these times on http://www.ortv.org/streaming/streaming.htm.
A message from St. Vincent dePaul Society:
In the interest of health and safety of our clients and our volunteers, we are temporarily suspending deliveries of  furniture and household goods. This suspension also applies to picking up donated items and accepting donated clothing at our church bins.
Please understand, this is in consideration for the safety and health of all whom we serve and of course our volunteers who work hard to help our brothers and sisters in need.  We will continue to accept requests for assistance and offers of items for donations and we will prioritize these lists based on greatest need when we resume operations.
Thank you for understanding our decision in these difficult times.
2020 Father Sherer Annual Scholarship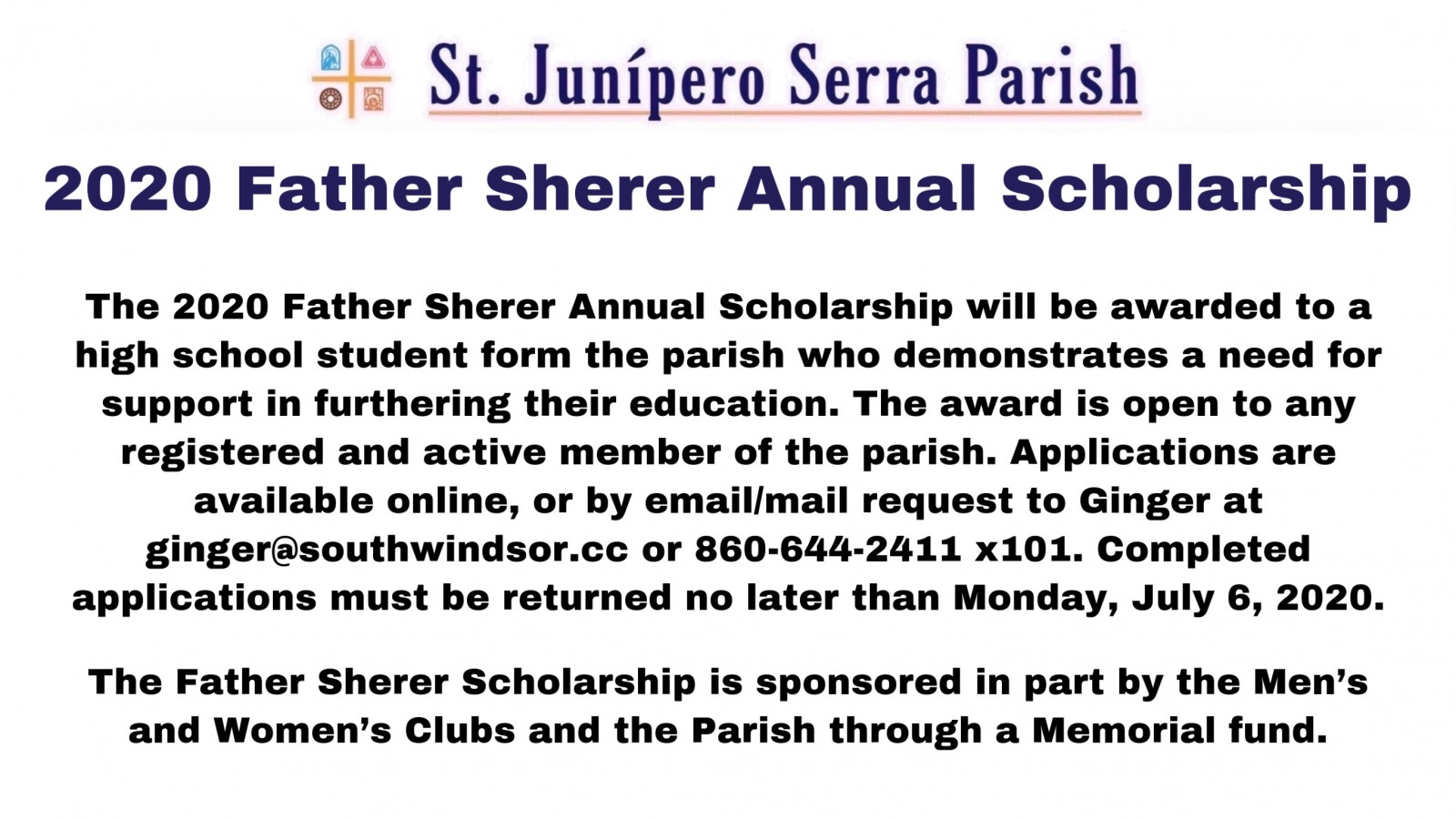 Rice Bowl Donation Update
Rice Bowl Donation Update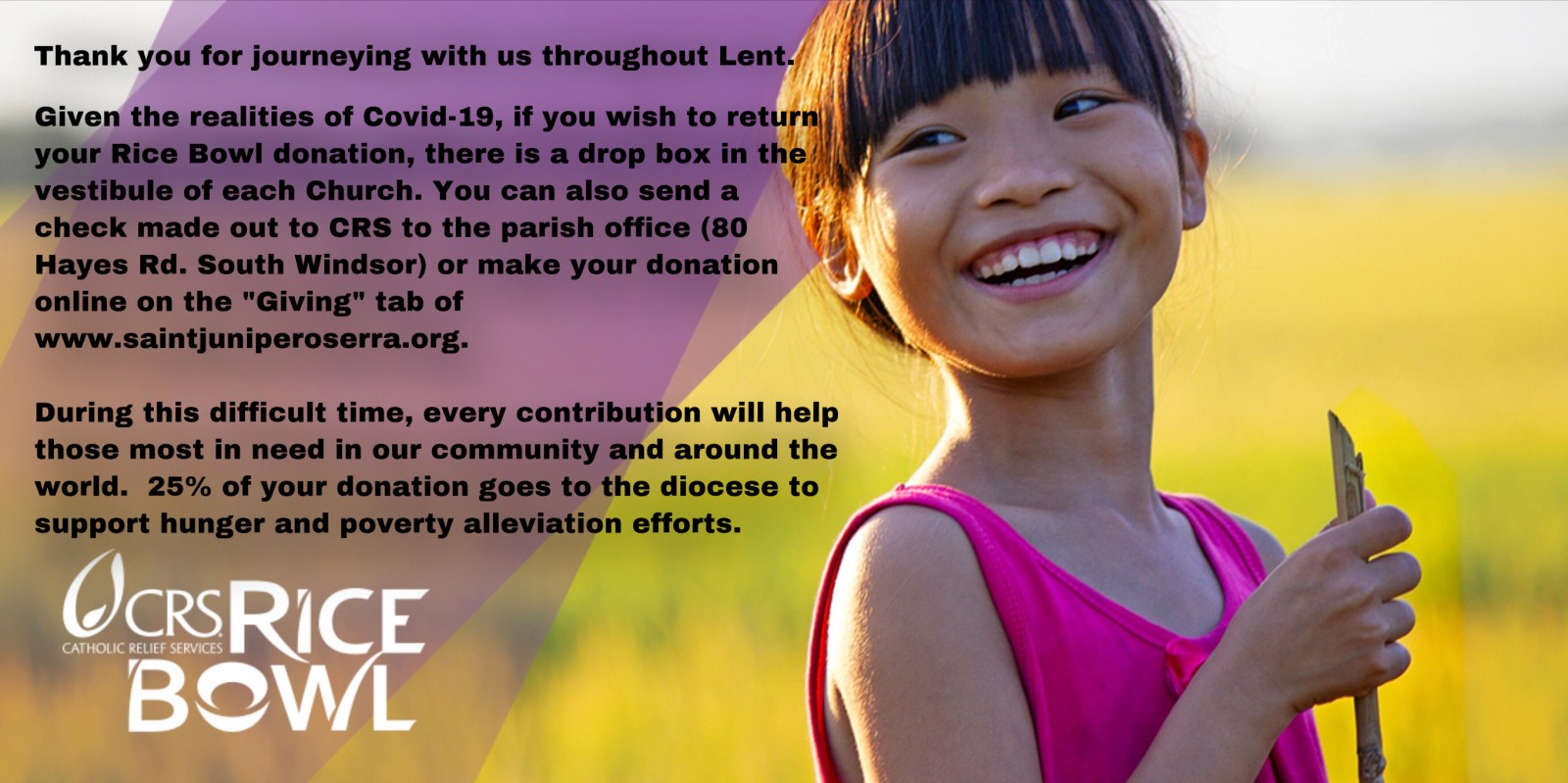 Arch Bishop's Annual Appeal
St. Junípero Serra supports the Starfish Program in Ecuador
Parish Priorities 2019 through 2021
Establish an Integrated Ministry of Youth

Create a Children's and Youth Engaged Mass and Worship Experience

Augment our Liturgical Ministries: Ushers, Readers, Servers, Eucharistic Ministries

Create a Faith Formation Steering Advisory Committee

Develop and Implement a Communications Position on the Parish Staff